Khan Tok at Hill Tribe
A traditional and unique dining experience.
When at Hill Tribes' do as the North Thai people do. Experience a real North Thai Khan Tok dinner.
The Khan Tok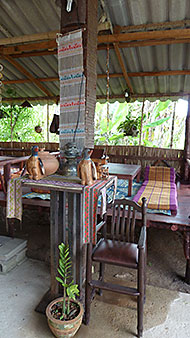 Take off your shoes, sit on the bamboo mat, lean against the comfortable triangle cushions and enjoy your unique dining experience.
The name "Khan Tok" in the northern dialect means a low, round table that holds the food dishes for the khan tok dinner.
At Khan tok dinner guests are seated on the floor, with plenty of triangular cushions for support.
Typically you will be served different north Thai (Lanna) style dishes, accompanied by a large round basket of sticky rice. The dishes are all traditional northern Thai and will include among others:
Gaeng Hung-Lay (Burmese pork curry)
Gai Tod (fried chicken)
Paad Puk (fried cabbage)
Nam Prik Ong (a chili, tomato & minced pork dip)
Keb Moo (fried pork rinds)
These dishes are garnished with sliced cucumber, long beans, baby egg plants & fresh basil along with other fresh garnishes.
How to proceed
To get the very best from the Khan Tok dinner, you should use your fingers to pull clumps of sticky rice from the basket and then scoop out small morsels from each of the dishes.
If you don't like eating with your fingers, there are always spoons & forks available!
However, if you prefer having your meal at the table – Khan Tok is also a perfect place to sit and enjoy your dessert or drink after the meal. Or just relax with your friends with fingerfood and drinks.
Reservations
We are looking forward to taking your reservation for a Khan Tok dinner at the Hill Tribe Restaurant.
Just call the local phone (093) 648 38 60